4 Tips to Create a Product That People Want to Buy
When I am consulting and hear entrepreneurs say that they are waiting to launch a minimum viable product even though the product is entirely functional, I…
Fundraising: The Game You Play to Win
A startup inevitably comes to a point when it requires financing. That could be the point when a product or service has been validated and is scaling, or that…
The Eight Myths of the E-Commerce Startup
Building an e-commerce startup today is now easier than ever, but in many ways, more difficult than ever. Many entrepreneurs enter into e-commerce because it…
Lessons Learned the Hard Way - Building a Founding Team
Building a founding team is a high risk and high reward activity. Many entrepreneurs brimming with ideas and an itch to prototype make the mistake of jumping…
The moment that Ivanka Trump vividly remembers is one day Donald Trump and her were walking outside of the Trump Tower. Her father pointed to the beggar on the street and said, "The difference between me and the beggar on the street is that I'm $80 million in debt." 
The real difference is that one lets life happen to him, and the other actively shapes his life.
Are you timing your startup for the market?
In building businesses as in betting on stocks, market timing is everything. Market timing is the ability to take the best course of action by predicting…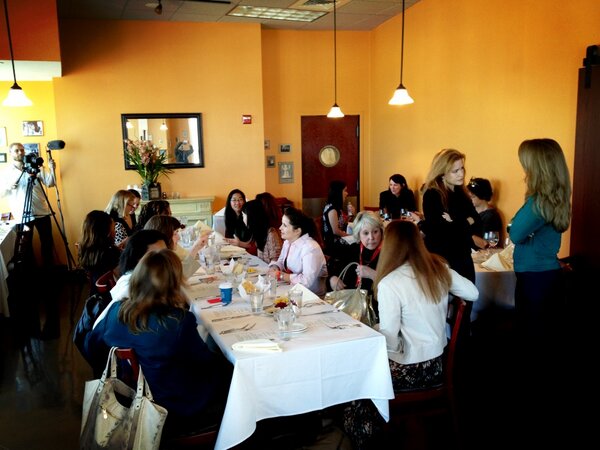 Austin, TX - Funding is a tough nut to crack for many first-time entrepreneurs, and even a tougher nut for those from atypical backgrounds, such as minorities, women, LGBT members. In a restaurant in south Austin, a group of powerful women from several corners of the country gathered to seriously discuss the problem. The women of the Pipeline Fellowship and Empower Lounge jointly hosted a talk by Natalia Oberti Noguera interviewing a serial entrepreneur and Dell Entrepreneur-in-Residence, Ingrid Vanderveldt, during the week of SXSWi.
Ms. Vanderveldt is an investor and an entrepreneur who has sat on both sides of the funding table, and could address the issues facing both sides. She currently heads a $100 million credit fund at Dell that seeks to make strides on the Dell's innovation space, and outside of that, is mission-driven to serve as an example to other women, such as helping the victims of Haiti and helping other women to find their voices and become successful.
Yet like many others, her personal experience with fundraising for her companies is filled with uncomfortable moments, and tremendous ups and downs. When building her first company which she eventually sold with success, Vanderveldt had encountered significant difficulties in raising funding. An investor sat her down and told in confidence that the reason she couldn't raise funding was that she didn't fit into the mold. To overcome the fact, she cut her hair, wore no makeup and only black suits, which didn't improve the situation. The problem is only too common as female entrepreneurs who raise funding become keenly aware that, as women they face a complex decision of whether owning the fact that they do not fit the stereotype, or trying to hide that fact behind clothes.
While the issues facing female entrepreneurs are complex, a key obstacle lies in that the gatekeepers to capital are predominantly and were historically men. What does our current environment look like? 12% of angels are women and 4% are minorities, according to Natalia Oberti Noguera, Founder and CEO of the Pipeline Fellowship. The problem is a lack of an efficient marketplace, as the funding side is under-developed. The solution to address the problem is to build a better and more efficient marketplace where willing capital can find attractive investment opportunities irrespective of the non-typical backgrounds of the entrepreneurs.
To that effect, programs such as Pipeline Fellowship, Golden Seeds, Dell Women's Entrepreneur Network, and others are filling a much needed void to train accredited female investors on how they can strategically, financially and legally invest in startups. However, the numbers of female and minority angel investors highlight a scarcity that reflects the difficulties female and minority entrepreneurs face as they fundraise. As more women become entrepreneurs and angel investors, there is a tremendous opportunity on both sides of the funding table.
This post was originally published on the Huffington Post.
Welcome to the Cambrian Explosion of Innovation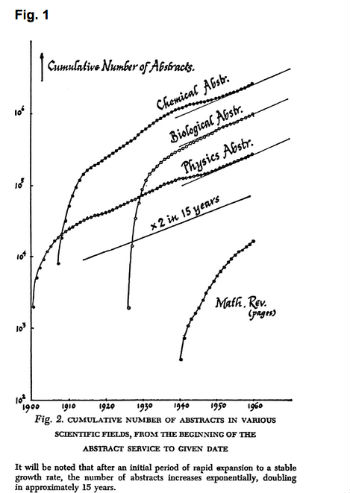 Charted used with the permission of Peder Olesen Larsen
Welcome to the Cambrian explosion of innovation that is happening before our very own eyes. The pace of the technological innovation has been accelerating. The Web — current humanity's store of information — is growing at an exponential rate. More research papers are getting been published (see above). Industries are being disrupted.
Most important, the winner of this exciting change and uncertainty is the individual. The access to various forms of technology — Web, cloud computing, bio-hacking, 3D printing, hardware hacking, etc. — has been drastically lowered. The laws of economics will hold that the lower barrier costs, the greater numbers of participants.
What does it mean for the future of innovation? It means a 15-year-old boy, Jack Andraka, with limited training in science, could discover a both powerfully accurate and incredibly simple diagnostic methodology for lung, pancreatic, and ovarian cancer.
The bigger picture? Jack Andraka couldn't have stumbled on this methodology without the context and the environment of our time. He is an harbinger of an incredible explosion of innovation from lone inventors — individuals in unlikely places with unexpected backgrounds, inventing using low-cost equipment, instead from well-funded university labs, research institutions, and R&D departments from Fortune 500 companies.
The tide is turning. Institutions that require heavy financial backing and have a legacy of methodologies to follow, by design, will focus on low-risk experiments that lead to incremental learning. In other words, these institutions are optimizing over the local optimum, not the global optimum. Outsiders untethered by a past, such as students and hobbyists, purely experiment for the sake of experimentation and on high-risk/high-return projects. Once these lone inventors meet some level of success, crowdsourced funding options are becoming robust and mainstream. Perhaps, in the long term, these higher-risk, smaller-seeded experimentation presents a better model for innovation.
Futurists call our time the moment approaching singularity. We had seen something in parallel to our time during the Industrial Revolution. This rapidly changing social dynamics will potentially disenfranchise people who do not necessarily have specialized skills, but present incredible opportunities for those who are playing with technology, experimenting and seeking answers.
Think about this and rejoice.
Follow Jane Wang on Twitter: www.twitter.com/janeylwang
This post is originally published on The Huffington Post.
Recently, there have been talks about how to address the lack of women in STEM, so when I heard about an opportunity to mentor young women about career choices, I jumped at the opportunity. My goal was to pique young women's interest in STEM early on before they start in college. I also wanted to make a pitch for building a strong foundation in math and science and thus having the flexibility to switch fields.
First to note, The Young Women's Leadership School of Astoria, in the New York Public School system is designed for girls who are interested in succeeding academically and getting a head start in leadership. The classrooms that I was assigned to speak are for 11th graders, the age where American high schoolers take the SAT test and start in earnest with the college application process.
As mentors, in front the students, we talk about what we do in our jobs, how we spend a typical day at work, and what career path and decisions that had led us here, and what college and college majors have prepared us. The mentors' field range from healthcare to finance to fashion to journalism to technology. I was very particular about what I wanted to do, which is to make a compelling argument about the importance of building a strong foundation of science and technology, and to pique young women's interest in pursuing career opportunities in STEM.
During moments of self-introduction and Q&A's, I've given away some non-traditional advice, including how to actively manage interview process, college application process, and networking opportunities, and some advice on risk-taking.
Unbeknownst to myself, my eyes were about to be wide opened. The moment, Lorena, another mentor in the room asked the students that how many are a first generation in their family to attend a college, and many hands went up, I felt my heart skipped a beat. Lorena also was a first generation in her family to attend university. I realized that the students here are very different from those students with whom I attended high school. I was touched that they found the initiative in themselves to attend such an excellent school, to apply to colleges, and to explore career opportunities.
After speaking with students in classrooms, the women scattered into the gym into career booths, where students could actively come over to ask questions. I sat at the booth labelled Science & Technology. There were young women who came over to ask questions, knowing specifically what is that they wanted to do and have well-defined goals. That brought us smiles. It was very encouraging to see young women who knew what they wanted, and are serious and prepared to take steps to reach those goals. Yet, we also note, the Science & Tech booth is not always as filled as some of the other booth. The question is why? That is a complicate question and probably deserves another post.
After the session is over, I found emails from the students that I spoke who said what I said made them feel more confident about college and career decisions, especially seeing that I changed my career over and over. I'm so honored to speak and to pique their interest in STEM. And I am deeply inspired and humbled by their own ability to change their life.
This post is also published on Skillcrush. Check out Skillcrush for tech resources and advice from women in tech.
Git is one of the most popular version control systems and is quickly gaining prominence. It is used on multiple cloud hosting services, including Amazon's EC2 and Heroku, and has vibrant usage among top open source communities.
Which means that if you want to make use of Amazon or Heroku's awesome server power or contribute your code to an open source project, you have to know how to participate by using git.
How Git works
Git is an open-source version control system (meaning, it's free!) that allows developers to track changes made on their code files throughout the lifetime of a project. Git is designed such that it views your code files like a "tree" and allows you to do cool things like create a "branch" where you work on some of the files without affecting the "trunk" code base until you are sufficiently convinced that the changes you are making are good and won't break the rest of the tree.
If you are alone working on a project git is a great way to track the changes you make and also safeguard yourself from making a silly mistake that breaks your web app or, worse yet, accidentally delete months of work.
Where Git really excels, however, is for projects where more than one developer is working on the code. The tree-like architecture we described above allows many developers (up to hundreds!) to work on a project at the same time without the code devolving into one big hairy mess.
Git was initially created by Linus Torvalds to be used on Linux kernel development with a large, distributed team of developers. Since the Linux kernel project is very large and the development was distributed among developers all over the world, Torvalds designed Git so that it would be fast and good at distributed version control. The beauty of Git is that it allows developers to easily merging changes into the master code base and encourages developers to be experimental, because Git allows you to make changes locally and not have to push to a centralized repository until you are ready.
How is Git different from other version control systems?
Git is a great version control tool because it's lightweight and straightforward to use, and it provides incredible compression and speed.
Since Git is so popular, and the Git community is so robust, thanks in large part to the popularity of Github, learning Git is one of the best things you can do in your process of learning development.
Excited to start using Git? Look out for our newsletter on Wednesday that will help you gitup and running.
This article is first published on Skillcrush, an awesome platform to learn about technology.

About the author